ahearsum
-
Joined

Jul 15, 2020
Messages

2
Location
What member type are you?

Homeowner
I'm doing a wet room and I am just about to lay the Impey aqua dec linear 2 shower former and attach tile backer boards to the stud wall.
I feel that I should put the former down first, butted right up to the studs in the stud wall then install the backer boards so they hang over the lip of the former.
The folks on the internet seem to be in two minds about that. I have attached a few pictures that explain my dilemma. The former has a 6mm lip around the edge (18mm deep at its lowest). If I do as described above the 12.5mm backer boards hang quite a bit over the lip on the former not to mention the tanking membrane and the glass panels I will be putting on after.
Does anyone have any suggestions of best practice?
(The pictures are: A visualisation of how it will look, the tray and diagram of the two options I've thought about.)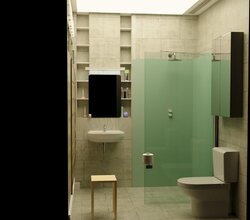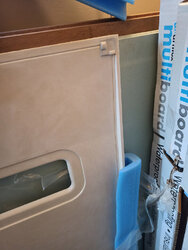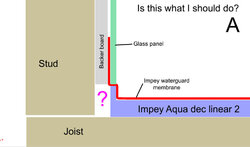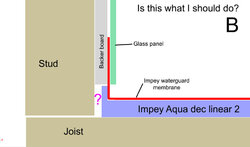 Last edited: