It has come to my attention again that post counts are being questioned for being too low, or not what some members expected.
There's no conspiracy around it.
The forum recalculates post counts every now and again. And it will count only those that are online and active the day it counts them.
So for example, if a forum category has been erased (we had a drill category once, and a trusted advisors forum once, and moderator forums have been erased and recreated as new staff come on board) and I haven't first shifted all the threads somewhere, they will get erased too.
Each individual forum post has a number, the last post I made was this one:
JOTM 2019 - JOTM Winner Badges - Those who have them still - https://www.tilersforums.com/threads/jotm-winner-badges-those-who-have-them-still.89607/#post-954704
And the number for that post is 954,704. (look in the URL/link/address bar to see the post number). It's the 89,607th thread to be created too. That's the other number there.
However the forum is reporting that right now we have 856,130 total posts.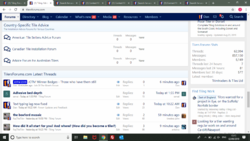 So 100,000 posts have been erased over the years. And staff posts, or posts of the members who have been here the longest, are clearly going to be the ones most affected by changes over time.
So there isn't anything going on here. We don't alter post count numbers. And personally I don't much care for them at all. You will notice they have gone from the post areas now and you need to click on a name to get the pop-up info card thing to see post counts these days.
I hope that makes sense to everybody. And gives you some closure on losing some post counts.
At the end of the day, it's a number on a tiling website on the internet somewhere, and it isn't connected to your heart beats per minute or anything actually important in life.
I'm not altering post figures for anybody - it screws up lots of things doing that, as well as making them fake.
Hope you all get that.
Last edited: