one of the walls i need to tile is just a bit wider than the width of the tile im using meaning id be left with a tiny strip of tile at one side.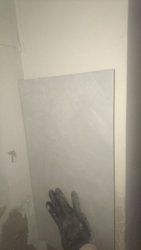 What would you guys do with this?
Mounting the tiles horizontal would be and option but the mrs wants them vertical.
Was thinking i could use two tiles cut just bigger than half and laying them back to back and hide the cut edge on the outside of the corner with a tile trim?
What do you think?