Joined

May 16, 2020
Messages

3
Reactions
Location
What member type are you?

Homeowner
Hi Everyone,
I recently moved into a new property and I have a tiled floor and hallway. Some of these tiles are loose and cracked so I've removed the grouting and loosened the tiles out with the aim of putting some new adhesive down and replacing the tile.
The only problem I have is that the tiles have loads of adhesive already stuck to the back of them which I am having difficulty removing, so I might need some replacement tiles.
I was wondering if anyone can help me identify the tile itself. All I can see to identify it is that it has "MADE IN SPAIN" on the back along with the number 4.
I've attached a picture for reference and hoping one of you can sort this riddle out for me! The length of the tile is 45cm, with a width of 15cm (45 L x 15 W).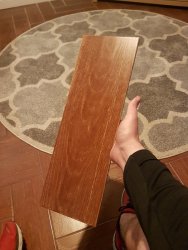 Any help greatly appreciated!
Many Thanks
Last edited: