Sean Kelly
TF
Esteemed
Supporter
Arms
I went to see a floor on Saturday. Roughly 12sqm of screed with wet UFH in a ground floor extension. The screed went down last week.
The surface of the screed was very rough and I could scrape up parts of it into my hand (very sandy). I could see and feel spongy insulation, as some of it was actually on the surface of the floor.
The wet UFH is actually part of the central heating. I believe the builders removed a radiator and connected the return and flow to the UFH pipes.
Nobody knows how deep the screed is, but the heating was turned on literally a few days after the screed had been laid. There is no 'zoning' and I believe the heating has been turned up high.
The heating is on a megaflow and several leaks appeared upstairs when the heating was turned on.
My advice was to carpet/vinyl or lay a wooden floor.
Questions:
Is this form of UFH normal?
Can anything be done with the screed?
I think I might know the answers to both questions, but I thought I should put it out there. What makes matters worse is that the new extension is part of a lounge. The old part of the lounge does not have UFH. The couple want 60x60 tiles and they want the grout lines to line up with the tiles in the hall and kitchen (also 60x60)....the old tiles were laid about 5 years ago. Therefore I am not able to span a tile across a heated and unheated floor.
Insulation showing: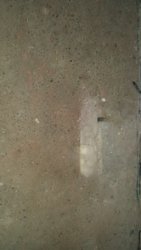 Sandy top: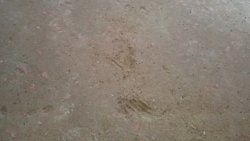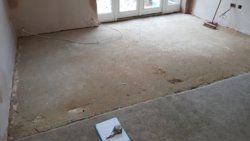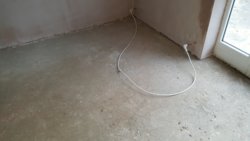 New screed (left), flat old screed (right)