Administrator
Staff member
JOTM Winner
Trusted Advisor
Tilers' Arms Member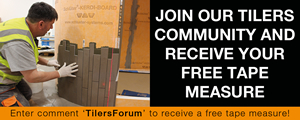 Someone submitted a new contest entry:
Schluter systems grateless drain wetroom with classic marble finish
So the customer had a Schlüter rep come to site and show us his wears so we could pick which system would work best in this situation.

We went with a grateless former.

The room started empty as the rip out was completed by the client.

First to sort the hole in the floor ready for the former, Floor boards were cut and joists were trimmed down(old house with massive joists in small lengths under no stress)ready for a 18mm ply base.

Tray former glued to ply with S1. Now had to...
View contest entry...