Hello everyone, new to the forum, nice to meet you. A tiler recommended to bring this question over here, they tell me we have a problem they've not seen in 30 years of tiling! Our London house was built circa 1900's, the hallway has its original tiles still which we'd like to restore.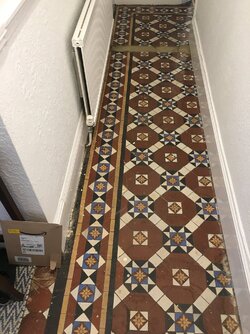 The problem I found after lifting the carpet, is that there are around 50 lead (Pb) plugs embedded around the tiled floor boarder. The lead plugs consist of a hole drilled into the tile, sometimes positioned on a single tile and other times in the grout spanning two tiles. These holes appear to have had molten lead poured into them, which then solidifies into the plug. In some cases the lead is a straight plug in the hole and in others, the lead also spreads out underneath the tile. The plugs each have a nail hole in them, from many of the plugs I have even removed old nails that were still in place. We understand that these lead plugs were an old method to secure carpet to, where lead is a soft metal it could have a nail secured into it.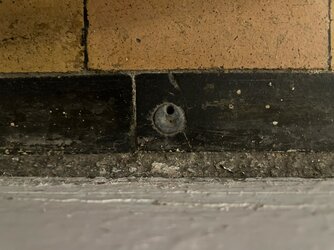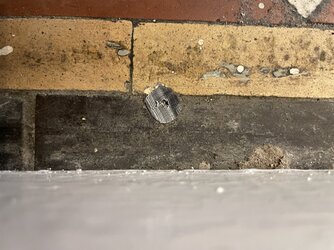 We are looking to have a professional remove the plugs before restoring the tiles, or remove them ourselves before our baby daughter gets her hands on them. I have put together a jig with a dowel screw and a few bits of wood that essentially acts as a corkscrew for removal. The dowel screw can first be drilled into the plug and then using a wing nut to tighten and pull on the plug to remove. Nice idea but due to the relative softness of the lead and that sometimes the metal is spread out under the tile floor, it only works occasionally. When removal fails, the lead coated hole is very hard to clear out!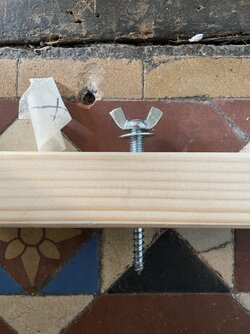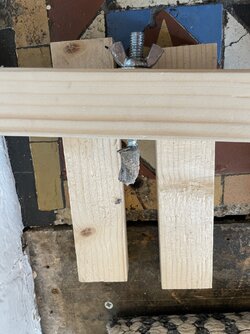 Has anyone encountered these lead plugs before and knows a robust way to remove them? Or can recommend a professional in the London (NW) area who can help with this. We're also looking for people who might be able to do the tile restoration, which needs repairing in some places.
Thanks a lot, I look forward to reading your expert suggestions.