Hi everyone,
I'm attempting to tile a new kitchen splashback using cube shape mosaic sheets and all going well, except I'm not sure how best to finish the grouting.
The splashback will not go to the ceiling and there are no wall cupboards.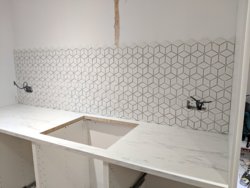 There's several examples of the same style on this site.
Creative Tile Finishing Ideas with Organic Edging - https://mercurymosaics.com/blogs/news/creative-tile-finishing-ideas-with-organic-edging
I was thinking perhaps grout it as normal with a bit extra coming out the top and then using a Dremel round out each bit between the diamonds?.
Also should I run a line of grout along the top of each diamond?
Or silicone all the exposed edges?
I can't really find anything online about making these king of designs.
Thanks Matthew