Helping out a friend, a builder has half finished a renovation job in her church flat in Manchester city centre. He had to leave the job due to family bereavement issues. I got a tiler from here a few years ago to do my mum's new kitchen and he did a great job.
The property is a duplex apartment within a church development. The kitchen has been tiled, but the hall way and living space upstairs have not, and they need completing.
Tiles are 600x600 porcelain(shiny). The substrate in both areas is OSB board. Now in the kitchen, the previous tiler has tiled directly onto this. I didn't think this was best practice, they've been down 5 months and appear to be ok, no cracks...
The kitchen flows through into the small entrance hall. The hall is approx 8 sq metres, quite an awkward shape, one of the walls runs diagonally. Pictures attached. In the kitchen area, tiler has tiled up to the skirting(not removed it). My friend needs the kitchen tiling extending into the hallway, seamlessly. Will need to cut close enough to the skirting so the gap can be covered with a neat bead of silicone/
In the living room upstairs, you would be able to overlay with ply. The area is approx 20 sqm. Again, one side is at an angle to the rest, and the skirting is on.
My friend has tiles, but no adhesive etc. Access is good. Job needs completing asap.
Please PM me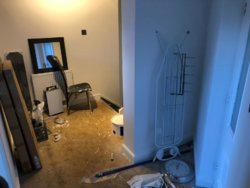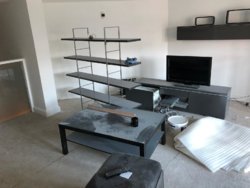 Last edited by a moderator: