Hi.
I'm currently building a single floor rear extension that will have UFH, I'm pretty confident about the extension UFH. 100mm insulation, 70mm screed, etc. My question is about the existing kitchen and dining room that will become one open plan space as part of the extension.
The make up of the existing floor is 60mm of screed on a block and beam floor. I would like to install UFH in this existing area also. Is it worth/possible to take up the existing screed and install a insulated solution option B, or just go for an overlay solution option A?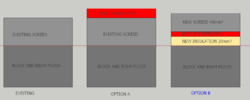 I would prefer option C if possible due to it being insulated and introduces less of a height difference with the rest of the house. Any special considerations needed for option C?
Thanks in advance.
Last edited: