Hi, I'm having my bathroom renovated and would really appreciate some advice as I've heard/read conflicting information and would like to know where I stand. The job is due to finish around the of this week.
The tiles are 600x300mm and 9mm thick porcelain.
Please see the attached image, which is a screenshot of multiple images. I can upload the individual files if you need to see any larger.
Clockwise from top left image:
2755 - adhesive
2543 - Ply back wall and platform for shower. When queried he said it was marine ply so would be ok.
2543 - side wall plastered, cut out for shower niche
2570 - constructed plywood niche sitting on shower tray.
2604 - Tiles being put on top of plywood on wall and on niche
2760 - dot and dab tiling. He agreed it didn't conform to British standards but it was the only way to make it look straight after he plastered the walls.
2762 - 3 piles of 16mm thick adhesive per tile along at least one wall
2768 - adhesive is aprox 60-70mm wide
2659 - tiles being laid on floor
2780 - tiles on plywood
2788 - tiles were laid on top of this wall
Thanks.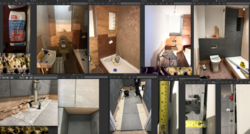 Last edited by a moderator: