Really capable and easy to use wet-saw, for sale as I don't need it anymore. Hasn't been used much at all. Bought it for a few tricky cuts in my bathroom, which was all completed last year and I've not used it since. Two genuine blades included, with most of their life left still, the ceramic one that came with it and I bought and extra porcelain one, when I bought it from emctiles.
Collection from Preston, Lancashire, or can meet somewhere reasonable if too far. No postage, I don't have any decent enough packaging for it.
Looking for £80. I paid £165.79 plus postage for the machine and extra blade.
Cheers.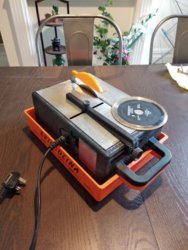 Last edited: