I received an email about BAL External tile adhesive and grout this morning and thought I'd post it to our
tiling news
area of the forum because there isn't much actual tiling news in here. But if you're looking for workwear you're on a winner.
(no offence to our awesome sponsor
@BulkWorkwear
- it's just this area isn't getting much tile stuff posted to it and that's my bad I guess)
BAL External Tiling with BAL Adhesive and Grout​
BAL's new simple range provides a familiar system for the most-common process of installing external pavers and tiles.

Using the market-leading performance and quality standards, the new external range from BAL provides improved installation performance for the two predominant system build-ups in the UK on Type 1 MOT and Concrete.

BAL's new range includes 4 new products, specifically designed for fail-free external installations.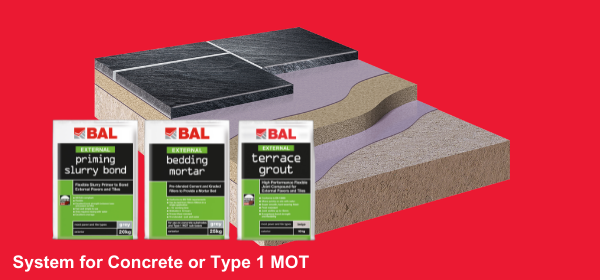 BAL Priming Slurry Bond for BAL External Tiling -
a flexible slurry priming coat for bonding external pavers and tiles.
Fast and simple to use – only requires mixing with water
Provides excellent bonding strength between base and pavers or tiles
Excellent coverage of 8m2 at 2mm thickness
Brush, roll or trowel on
Fully compliant with BS 7533
BAL Bedding Mortar for BAL External Tiling -
A pre-blended mix of cement and graded fillers to provide a semi-dry mortar bed
Simple to use, just add water and mix in a force action mixer
Can be laid from 10mm for concrete, or 25mm for Type 1 MOT, to 100mm in a single application
Gives more than 1 hour working time
Walkable in 12 hours n Freeze/thaw resistant and conforms to BS 7533 requirement
BAL Terrace Grout for BAL External Tiling -
Provide the perfect finish with this high performance flexible joint compound for pavers and tiles
Super smooth and hard-wearing finish
Mixes quickly on-site with water
Exceptional bond strength and flexibility
Joint widths up to 15mm
Available in 4 key colours – beige, light grey, dark grey, charcoal
Frost and heat resistant n Conforms to EN 13888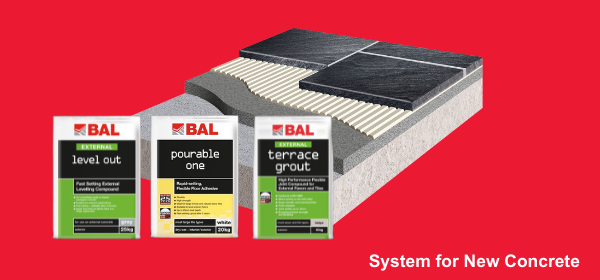 BAL Level Out for External Tiling with BAL Adhesive and Grout
When fixing onto concrete which is in a good condition for tiling, but may need smoothing out, BAL is launching new
BAL Level Out
, a fast-setting one-part external levelling compound for smoothing rough or impact damaged concrete.
Download the BAL External Tiling leaflet for free by clicking here
There's a brilliant YT Live video where David Rowley, the Grand Master of Tiling and Adhesives, explains in great detail every aspect of the range and there are a few demonstrations by the looks of it. At 45 minutes long I must admit I haven't found time to watch it on this sunny Monday morning. But I'm sure it's top notch.
There will be a few posts related to this on our Tile News blog. Our sponsors Mapei tile adhesives also have levelling systems, adhesives and grout to cater for external tiling.
Please reply in the comments with which tile adhesive and grout you use when tiling externally.
Not the time of year for it, but at one point over the last 18 months it might have been the only tiling we would have been doing due to lockdown restrictions!