Hi,
New to the forum. I'm going to be installing a new corner, shower unit with tiled walls, glass doors and acrylic shower pan, as part of a bathroom re-modelling project. I'm not a pro. Would appreciate expert advice on several points.
The new shower will replace an old 'one piece' molded shower stall (with perspex doors) that was (along with the sunken bathtub) on a raised level, as was the vogue back when the house was built in 1995. The wall behind the shower of course was framed for that and I've had to put in a good deal of additional framing to get everything squared up for tiling and support for the door frame and fixtures. While the sub-floor was opened up, I had a plumber to replace all of the existing Poly B water lines with Pex. That corner of the bathroom is actually situated over a log fireplace in the lounge so, with no easy from below, I've had to re-configure the shower drain plumbing so that P-trap rising lines up exactly with the pan drain. I was originally going to use an Oatey No-Caulk drain fitting, but the plumber advised me at the time that it was better to use a solvent-weld drain and that I would need to ensure the P-trap is solidly supported, with a little lateral wiggle room for fine adjustment when I drop the pan into place and dock the pre-glued riser and fitting.
The pan according to instructions needs to be set in mortar, but the company (Voda) has assured me that the circular 'feet' underneath do fully support the pan and there is no need to pack mortar to support the fiberglass underside, as long as it is level and all of the feet are touching the substrate. I had already pre-leveled the floor with self leveling compound (Mapei Novoplan 2) - there was a slight slope (about 1/8') out from the walls, so the SLC 3/8" thick at the low point and approx 1/4" around the walls. Not ideal over 3/4" OSB sub-floor I know, but I put of a lot of additional joist bracing underneath so it's very sold, plus expansion foam (backer rod) around the wall. Also primed the OSB with undiluted Primer T. With hindsight I should perhaps have put lathe down when I poured SLC, but I didn't and it's too late to go back. I've been working on top of it for two weeks now and no cracks have developed, so I"m hoping it will be OK.
That said, whilst the pan sits level, there's still tiny bit of wobble when I rock it, so I'm thinking to 'embed' it in another layer (1/4") of self-leveling compound, whilst fluid. I'll have to work quickly I know, but that way, hopefully, the pan won't be raised any higher so the cured plinth of SLC I had poured earlier will come flush with the Ditra XL I will be laying over the OSB for tiling.
My queries:
1. Would it be better set the pan in thinset, say raked through with a 1/4" notched trowel ? It would give me a bit more time, but I want to be sure it doesn't lift the pan any higher. Also I watched a couple of You Tube videos that discouraged using thinset (tile mortar/adhesive) under acrylic/fiberglass pans because it will grab the underside of the pan and substrate, which could lead to cracking at some point to expansion contraction. And that if thinset is used, PVC sheet should be laid over it to act as a decoupling interface. That said, I've seen other videos, posted by pros, who swear by it, with no such precautions. If that is a viable option, I would appreciate advice on a suitable product to use. I'm going to be laying large format (24" x 24") ceramic tile on the floor. Haven't ordered the mortar yet. I know it should be modified for installing the Ditra XL (on OSB) and unmodified for the tile. Would modified thinset also be suitable for under the the shower.
2. I'm going to be tiling the shower walls (only) with the same large format tiles as the floor - yes, the wife wants that. Medium format tiles on the other walls. I'm using 1/2" moisture resistant dry-wall (CGC Mold Tough Ultralight) on all walls and will be applying Kerdi membrane over that on the shower walls. I've already cut the drywall sections. Just need to install the pan first and trim the drywall if needs to be to come flush with the pan flange. But a thought has struck me. The stack for the fireplace below runs up behind the shower wall and generates quite a bit of heat when it fire is going - which it is most days over winter. I don't see any evidence of the vapor barrier sheeting on one of the (exterior) being affected but I'm wondering if the transmitted heat could adversely affect the shower tiles. Obviously, I will ensure that the fire is not on when I install the Keri membrane and tile. Would it be wise to put stone wool insulation batting behind the shower drywall before I install it ?
3. Obviously I'm going to be putting Kerdi band along the Kerdi membrane seams, around the shower pan and between the Ditra sheets. I was thinking to put it all around the other other walls, to seal the gap between drywall and Ditra, but totting it up, it gets quite expensive. Is there a suitable, more economical alternative, short of just caulking?
I've attached photos. Sorry to be a bit long winded, but that's how I am. Comes from my mother.
Cheers.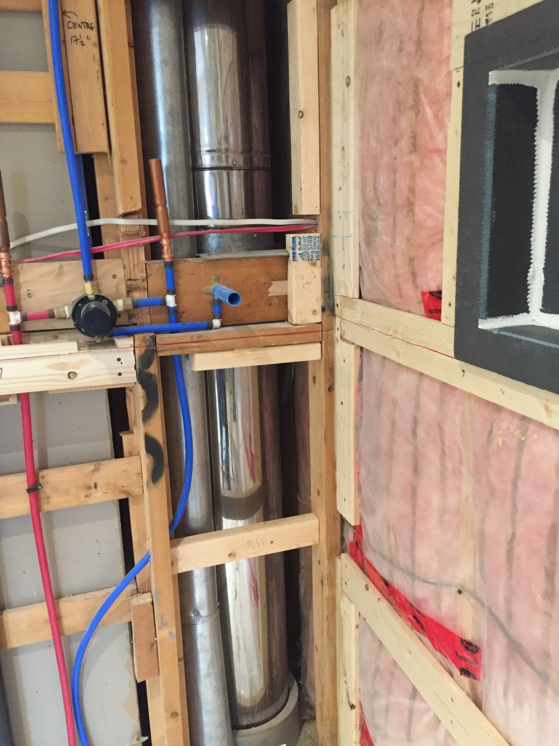 Last edited: